There's a new game in town, and it's about much more than sports
Little Rock Rangers want to give back by offering club scholarships to kids who can't play clubs for financial reasons.
miércoles, 4 de mayo de 2016
Por: Published by ¡Viva Arkansas!
Photos by Casey Crocker
The sky over Little Rock's War Memorial Stadium is gray when a handful of young men in shorts and cleats jog onto the field on a recent Monday morning. Crows circle in the stands, alighting occasionally as if to watch, as if they know something important is happening.
And it is. Arkansas's brand-new minor-league soccer team, the Little Rock Rangers, will play their first home game of the conference season at 7 p.m. on Friday, May 6, here at War Memorial Stadium. Every one of the team's practices counts, so even though the roster is incomplete on this workday morning, they're taking it seriously.
Which is probably why Coach Will Montgomery, one of four coaches for the team, talks with me for barely three minutes before asking politely with his eyes if he can return to the field. His players are awaiting instruction. "Jog it out," he shouts, jogging back to the field himself.
Montgomery played for the Arkansas Diamonds, the state's last minor-league team, which disbanded in 1995, so he knows how important this is, both for the players and for the state.
So does Jonathan Wardlaw, the founder and owner of the all-amateur team. "When I was growing up here playing, soccer was very alternative," says Wardlaw. "You might as well have been a purple-haired skateboarder," he jokes, comparing soccer with football, baseball and basketball, all more traditional in the South.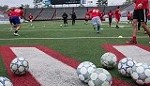 Galería
Little Rock Rangers Soccer Team
Flash forward to today, when Wardlaw's 10-year-old son plays soccer-"they're still behind," he says, and routinely getting beaten at tournaments.
"We just started talking about what we could do to improve," explains Wardlaw, who is also a youth soccer coach. "We lose a lot of kids in the 9-12 ages to the more traditional sports. So if we can play games here and have these 'grown kids' playing, giving the younger guys something to look forward to, maybe they'll stick with the sport longer." As if in approval, the clouds break and the sun shines on Wardlaw's face.
"At the same time," he continues, gesturing toward the field, "some of these guys are at the end of their playing careers...if we can keep those guys interested, maybe they'll start coaching. The kids relate to those guys much better than they do to me as a dad who's out there coaching." So when head coach Michael Surtees told him about the National Premier Soccer League, Wardlaw began looking into creating a franchise.
Fifteen additional founding donors later, Arkansas got its first minor-league soccer team in two decades.
So far, the response has been overwhelmingly positive: More than 100 people showed up to the team's first tryouts in January, and 50 more to the second a few weeks ago; 200 people came to a ribbon-cutting, along with all the TV stations; local Fox16 news anchor Kevin Kelly, a former semi-pro goalkeeper, showed up for a story, came back to try out, and is now the assistant goalkeeper coach.
The list goes on. And the enthusiasm isn't just local-Foursquare co-founder Dennis Crowley, chair of New York's Kingston Stockade Football Club, also in the NPSL, favorably retweeted one of Wardlaw's team ideas. "So here I am in Little Rock, and I've got the Foursquare guy complimenting me," says Wardlaw.
He also heard from a pro scout for the Glasgow Rangers of Scotland-the 144-year-old team after whom our local Rangers were loosely named-and they got to talking about the possibility of a friendly-game visiting program.
"That's one beautiful thing about it," says Coach Surtees. "The soccer community, once it gets to a certain level, it gets pretty tight. Everybody knows everybody." Surtees, who is originally from England and Spain but grew up largely in the Mississippi Delta, has been involved in the game his whole life.
(He jokes that his uncle put a soccer ball in the hospital bed when he was born.) He, too, has witnessed a lot of soccer talent drift into other sports or out of sports altogether as children age and the options-at least in Arkansas-narrow. Alluding to a Central Arkansas complex where the number of youth fields far outweighs those for adult players, he says that young players "know they're going to play as a kid and then move on. That's something we'd like to stem the tide of."
But the mission of the Little Rock Rangers reaches far beyond helping players stay in the game. "One of our goals," says Wardlaw, "with any profits we can make is to give back" by offering club scholarships to kids who can't play clubs for financial reasons.
Club soccer-what many young players play outside of school-can get very expensive very fast, between uniforms, equipment and self-financed travel to games and tournaments. But the benefit is that it puts players in front of college recruiters who might not see them at non-club games.
"This is something close to my heart," says Surtees, "because I was a sponsored kid."
As if their goals weren't lofty enough, Wardlaw also views the team as a way to build community across cultures and as a potential economic driver for the state. And there's hope that a new fan base and continued excitement will help save War Memorial from whatever fate awaits it if the dwindling Razorback presence disappears entirely.
"Nobody wants this to become another parking lot," says Wardlaw. For inspiration, he looks to Chattanooga, a city geographically and demographically similar to Little Rock that started a team in 2009, also in the NPSL. When they played the New York Cosmos in the league championship last year, more than 18,000 fans showed up, breaking the national amateur soccer attendance record.
"They're all about growing community," says Wardlaw, "and they put that place on the map."
The team's season began with a bang as they won a two-game friendly cup series against Memphis April 24 and 26. The first home game of the conference season will take place on Friday, May 6, against Wichita, with future home games on May 15 and 28 and June 3, 10 and 12.
Single tickets are $10 for adults and $5 for children. There will be food trucks and other enticements at the stadium for games. For more information about the team and to purchase tickets, please visit www.littlerockrangers.com.
Opina sobre este artículo